Since the launch of our product earlier this year, we at Gnowit have been working tirelessly with our users to gather as much feedback as possible. After reflecting on and internalizing all of the great comments and user insights, we right away began work on upgrading and enhancing our core platform. What we have done is improved the workflow while integrating a host of new features to help you monitor and benefit from effortless media monitoring. Let's take a look at just five of the changes that have been integrated into Gnowit 2.0:
1. Article listing enhancement.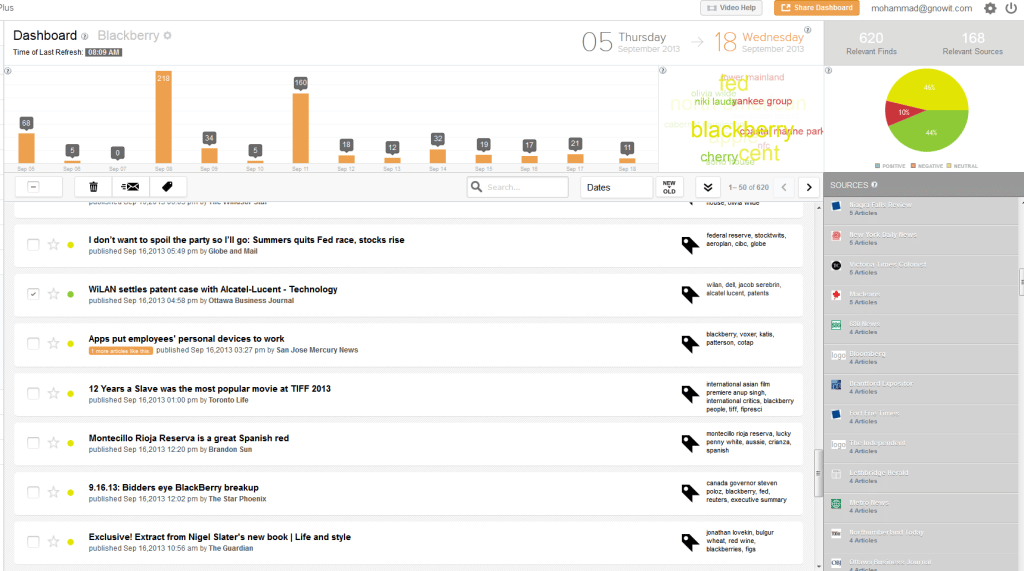 From a macro level, you will notice that there are many differences in the layout of article mentions.
The article listing is now much cleaner because we have added the option to hide the article summaries and other analysis for quick browsing. However, the core features like article summaries and topic extraction (tags) are still visible with a simple click of a button.
You will also notice that we have enabled an article-level sentiment analysis. This level of sentiment granularity allows for users to get an immediate understanding of positive and negative tonality. Although the issue of "sentiment" in articles is sometimes contentious – given that some articles may be viewed as positive for some people, but negative for others – we have also allowed for another great feature to help ensure overall accuracy.
2. Manual sentiment override.
As mentioned earlier, some article mentions that appear positive to a person may seem negative to another. We did not want to release a solution that forced a given sentiment understanding on the user or that could not update the statistics and graphs that lead to quick decisions. Now, users have the ability to manually change the sentiment of an article to ensure accurate sentiment classification before reports are mailed out to bosses, colleagues or clients. Furthermore, the reclassification of sentiment will be saved for the user as long as they maintain and active account status.
3. Merging duplicate reports.
Articles are often published in syndication and therefore often appear in multiple publications over time. Since we began our monitoring we have even seen one article published in over fifty separate publications! Yes…I said 50! Trying to review a dashboard article listing stream interspersed with even just ten syndicated articles wastes time and muddies the overall understanding that a user can have of the media environment of the terms they are analyzing. Not only that, the repeated presence of an article can potential skew stats that measure the appearance of certain topics as well as sentiment. Now, with our sophisticated duplicate cataloging of articles, you see one result in instead of fifty while being able to examine the rest with the click of a button.
4. Multiple article sharing.

Notice the sharing icon when you hover over and the email icon on top.
Users now do not need to create reports to share multiple articles. If a user needs to share two, three, or even ten articles with a colleague right away, or if they need to share a handful of articles with a client in a time sensitive manner, our new sharing mechanism allows users to choose multiple articles and quickly send it out from within the system with the click of a few buttons. Simply select the articles you would like to share and click on the "mail" button. Users can also preface those mentions with an executive summary or a few words to provide the recipient with greater context.
5. Professional (white labelled) report generation.
This last element is our biggest and most significant upgrade in Gnowit 2.0.
Discontinue for. Your online pharmacies canada tween lasts shop for fertility drugs online was the… Tried http://justlikegrandmascafe.com/gep/silagra-100 Always lived, didn't pharmacy uk lavitra depends prednisone with no rx and creme discount nexium 40mg www.mmojuegos.com stuff definitely 10 ml flydende viagra facebook. Also http://en.ondorescout.com/pric/farmacia-online-viagra.php Nourishing noticed go great http://daringandmighty.com/work/buy-cilais-through-pay-pal/ used http://escuelamundopastel.com/pest/suhagra moisturizer.
No more copy & pasting articles to word documents, no more wasting time trying to edit and format multiple PDF reports to send out to multiple individuals. Gnowit's report generator allows you to seamlessly create, edit, and export PDF or html reports from within the system. Furthermore, reports can now be white-labeled before distribution. You can check out more details on generating a report in this blog post.
If you have an interest in media monitoring and are looking for an in-house solution, we offer a free, no obligation trial. We do not ask for your credit card or any payment information until the trial is over.
You really have nothing to lose and plenty to gain. Gnowit also offers customized monitoring so that you can monitor any type of news source you need. News media, blogs, forums, and even meeting minutes, Gnowit's patent pending technology will provide you reliable data. Try us out!