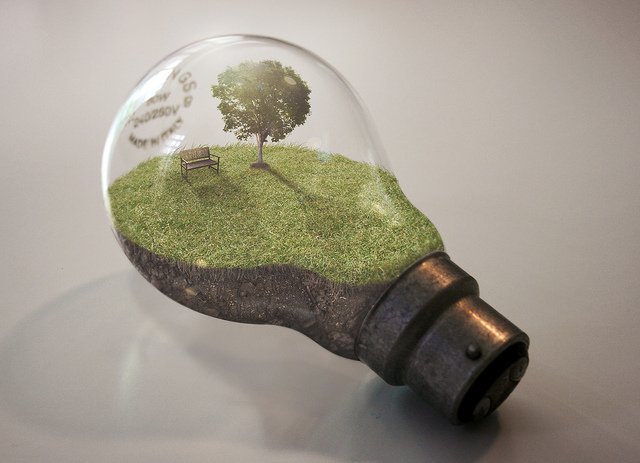 Lessons from 3 Hot Cleantech Companies
Okay, I admit it. This post should probably be called "Lessons from 3 of B.C.'s Hottest Cleantech Companies". In my defence, this started out as a nationwide list, and narrowing it down was no easy task. Companies like Montreal's Enerkem (which has gained a ton of well-deserved recognition for its waste-to-biofuel technology) are proving that green innovation is alive and well in Canada.
But it's no surprise that three of the country's most exciting green technology businesses are working out of British Columbia. The province's commitments to reducing pollution (through measures like 2008's carbon tax) and supporting green businesses (through programs like Vancouver's Foresight Cleantech Accelerator) have contributed to the its reputation as a positive environment for cleantech development.
The B.C. companies listed here should be a source of pride for all environmentally-conscious Canadians. These businesses are impressive not only for the inventive solutions they provide, but the evident passion and fearlessness of the people responsible for them. What can their recent successes teach aspiring (and established) cleantech entrepreneurs? This post sets out to answer that question.
1) VeloMetro Mobility Inc
VeloMetro is a Vancouver-based company that produces enclosed, human-powered vehicles known as VeloCars. Inspired by their 1930s counterparts, contemporary velocars combine sophisticated design with sustainability to provide users with a superior transportational experience.
Why it's hot: 2015 is sure to be a big year for VeloMetro. In October, the company generated buzz among investors at Greenbiz's VERGE conference in San Francisco. Now the team is on track to start a VeloCar-sharing program in Vancouver, which will begin with a fleet of 50 publicly-accessible vehicles. The timing couldn't be better – according to those in the know, this year there will be renewed public interest in electric cars. VeloCars share some important features with these vehicles, including the use of electric power (which helps riders deal with hills and long distances) and storage space for running errands. But VeloCars also offer other benefits, including cost-efficiency and a physically-fit lifestyle.
The Lesson: VeloMetro's success offers several important lessons for green entrepreneurs. The company had the foresight to look beyond the struggles of electric-car manufacturers to see the ongoing demand for sustainable transportation. With aspirations to move into other socially-progressive markets such as Portland, the company clearly understands its market. Business acumen aside, the greatest strength of the VeloMetro team may be its wholehearted belief in the environmental cause. In an interview with TechVibes, CEO John Stonier said of the company, "[i]t's all about getting people out of cars…it's not about replacing bikes, it's about replacing cars." Given our country's continued dependence on oil and gas, Stonier's ambition is bold.
2) Semios
Semios combines wireless technology, machine-to-machine communication, and pheromones for superior agricultural pest control. Founder and CEO Michael Gilbert – a chemist with experience in pharmaceuticals – set out to find a more efficient way for growers to use pheromones. While pheromone-based solutions have the benefit of being non-toxic (they control pests by disrupting their mating processes), they can also be expensive. Through partnerships with investors who understand wireless technology, Gilbert devised a system that enables growers to monitor for (and react to) pests electronically. This technology allows for the more precise application of costly pheromones.
In addition to pests, Semios helps growers monitor and manage blights such as frost, disease, and less-than-optimal soil conditions.
Why it's hot: Semios makes our list because its innovative. Descriptions of the company's orchard-management system – which involves tiny cameras, remotely-dispersing canisters of pheromones, and an array of electronic data-collection apparatus – sound like the stuff of science fiction. Novelty aside, the company has the potential to solve massive agricultural challenges in a safe, environmentally-friendly way. With pesticide regulation on the rise, the time is right for solutions like Semios.
A 2013 Ottawa Citizen article describes the international enthusiasm for Semios. James Maynard (chief executive of Wavefront, an organization that helped Semios gain exposure by arranging tours and helping with marketing) succinctly described the reception Gilbert received in South America. "Word had gotten out ahead of Semios," says Maynard, "there were people waiting to meet them." The positive buzz continued in 2014, when the company won a lucrative award from Verizon and attained a spot on the Ready to Rocket list (a good predictor of success in the B.C. tech world).
The Lesson: The success of Semios demonstrates the potential benefits of committing to a wildly-inventive idea. While many would have abandoned a plan that combines elements from seemingly incongruent fields – wireless technology, machine-to-machine communication, and green agriculture – Gilbert made it work. He found the right investors. He benefited from the talents of niche marketing experts (those who work at Wavefront, leaders in wireless research and commercialization) and the support of the VentureLabs Accelerator program.
For those working in fields perceived as risky (such as cleantech), a big idea is far more likely to succeed with support from those who have complementary expertise. Finding this expertise may come down to research and extensive exploration.

3) General Fusion
According to General Fusion's website, its goal is to "transform the world energy supply by developing the fastest, most practical, and lowest-cost path to commercial fusion power". Oh, is that all? Of course, nuclear fusion – not to be confused with the ever-controversial nuclear fission – has evaded scientists for decades. But that hasn't stopped General Fusion's founder, Michel Laberge (a PhD in plasma physics), from assembling a team of sixty-five people to pursue it.
Why it's hot: General Fusion was one of five Canadian companies on last year's Cleantech 100. But the company is getting plenty of attention from other sources, too. Michel Laberge gave his own TED talk in 2014, and several recent articles have solidified General Fusion's compelling narrative (which includes Laberge's midlife career change, his decision to take up a nearly-forgotten branch of research, and the thriftiness that lead his team to purchase parts from Costco).
To see the type of publicity the company is getting, try googling "General Fusion". You'll find results peppered with words like "breakthrough" and "revolutionary", words that attest to the fearlessness of a team that believes it can solve the world's energy issues. You'll also find the company's website, which contains explanations of the scientific progress towards (and immense potential benefits of) nuclear fusion. In big, bold letters, the site asks visitors to "rethink fusion".
The Lesson: Through publicity and educational efforts, Michael Laberge has established himself as a thought leader. His ideas – and the ideas of his teammates – have reached beyond other researchers, building General Fusion's public reputation. True, the company's ultimate goal lends itself well to publicity. But given the not-uncommon misperception of nuclear fusion as dangerous, its publicity could have been negative. By choosing to educate, General Fusion has taken control of its own message while sparking further public conversation. That's no easy feat.

Key Takeaways
VeloMetro, Semios, and General Fusion have all managed to generate a whole lot of positive buzz. How? For one, each of these companies offers a promising solution to a pressing problem. But there are other business strengths at play. A deep understanding of target markets, a willingness to seek out and take advantage of potential opportunities, a commitment to communicating company assets – each of these elements is integral to getting noticed.
There are a variety of tools, platforms, and programs that can help cleantech companies achieve higher profiles. I'm part of a team that provides automated media-monitoring services, so I'm partial to these types of solutions. I frequently see the remarkable insights that come from monitoring the news, along with the decisive actions companies are able to take after finding them. Of course, there are other solutions, all of which have their proponents. There are also books to read, business templates to follow, and thought leaders to learn from.
But the factor most likely to determine a company's success is not so much a strategy as a state of mind. Those within the relatively-new cleantech sector must be bold. Without a willingness to take risks, they may never get the chance to turn vision into reality.

Feature Image Courtesy of Celeste B